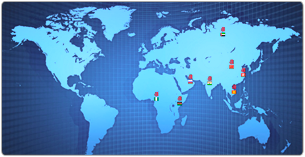 Amoli is an ICT distributor and a global leader in IT supply-chain & mobile lifestyle devices. We distribute and market a large variety of technology and mobility products from leading companies, such as Acer, Brother, Canon, Cisco, Dell, Glory, Hewlett-Packard ("HP"), Konica Minolta, Sharp, Samsung amongst others.
As a vital link in the technology value chain, Amoli creates sales and profit opportunities for vendors and resellers through unique marketing programs, efficient logistics and mobility solutions, technical support, financial services, product aggregation and distribution.
Since its beginnings in 1987, Amoli Hong Kong has connected technology solution providers with vendors worldwide, identifying emerging markets and technologies that shape the IT industry. Today, Amoli remains at the forefront of the global technology marketplace, bringing the latest products and services to market and finding new ways to bring value to its customers.
The company supports global operations through an extensive sales and distribution network throughout Russia, India, Middle East, Africa and Asia-Pacific:
Local sales offices and/or representatives in 8 countries.
20+distribution centers worldwide.
Specialist retailers from over 45 countries trust in AMOLI as an independent trade partner for premium quality products.
Distributing Office Automationequipments& Banking Equipment in addition to IT.
Serving more than 6,000 resellers in approximately 60 countries
The only global broad-based IT distributor with significant OA & Banking Products portfolio.