Strengthen your business by partnering with Amoli
The Amoli model enables technology solution providers, manufacturers and publishers to cost-effectively sell and support end users ranging from small-to-midsize businesses (SMB) to large enterprises. At Amoli, we see our services as a platform for your business success-because your success is our success!
Customercare Mission Statement
The CustomerCare Mission is to provide all Amoli customers with the best possible customer experience, assist in enhancing and growing business relationships, and uphold a good rapport with Our Brands
Contact us: Team Amoli, one-to-one advice, always to the point
Team Amoli, One-to-one advice, always to the point! Short communication routes ensured by individual support: As our client you will have a personal contact assigned to you, who will be able to help with any queries you may have, and who will supervise your orders from the first to the very last step.
Every one of our employees has up to the minute expert know-how.
Your contact person will consult with you personally, and is ready to deal with your queries any time.
Our office hours are Mon to Fri, 9 am to 6 pm (HK Time).
Email address & Corporate Office address
Why Amoli?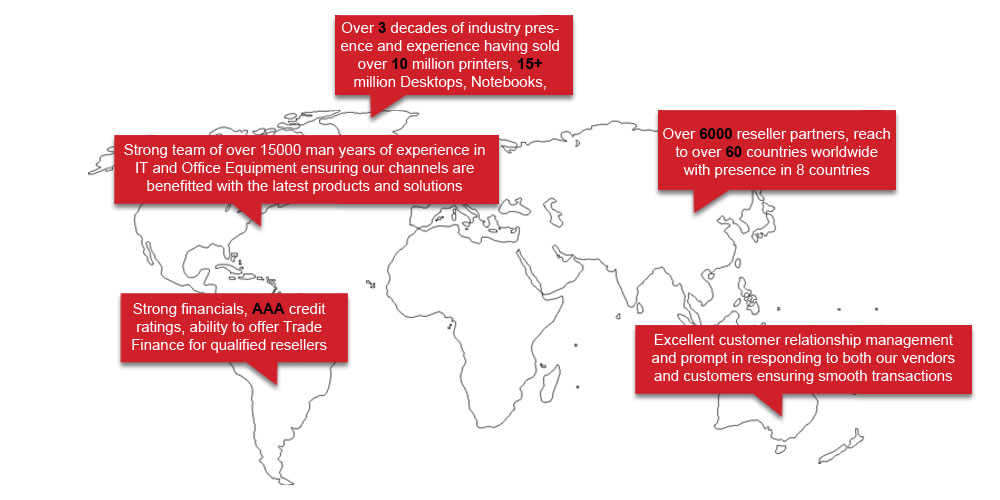 Over the years the brand 'AMOLI' has evoked a strong sense of trust among many of its global vendors and partners across India and overseas.
Amoli has the ability to add exceptional value to the Brands it supports by innovating relevant strategies that not only add value but provide business solutions to the vendors and channel partners to enable them to conduct their business seamlessly and with minimal hitches.
Amoli thrives in nurturing the relationship and working closely with its business partners to meet, its own, the vendors and the channel partners, brand aspirations.
Staying lively and responding efficiently to market changes enabled Amoli to manage the inherent risks in the business and provide a cost effective distribution solution to the vendors and channel partners.
As a neutral third party hardware service provider, Amoli provides best of quality after sales support services to many reputed global brands and enables the brands to meet their warranty and post warranty obligation quite seamlessly.
Through Amoli service centres spread across the country, Amoli ensures customer satisfaction by giving the benefit of cost effective, quality service next to their doorstep.
Amoli extends trade finance to the IT distribution channel to meet their finance requirements with a variety of customized products and solutions thus nurturing the entrepreneurship of resellers through finance.
Amoli offers the entire gamut of logistics services under one roof in a dedicated multi-client facility thus providing a one stop solution for all SCM needs.
The fact that we call our resellers as Partners is explanatory of the relationship we share with more than 33000 channel partners across countries.
To Amoli every reseller is a valued customer and thus is catered with a professional sales team and key account managers.
Amoli provides differentiated value offerings up and down the supply chain, in some or the other touching everyone in the chain from the vendor to the end customer. Customer does not mean only to whom Amoli sells its products but also at time vendors who sells their products to Amoli also become customer of it as they do purchase from Amoli.
Broadly, the customers are categorized as follows
Trade Partners / Redistribution Stockist
Deal Partners
System Integrators / OEM
Government
Large Format Retailers
It is noteworthy that we enjoy a transparent relationship with our channel partners. We ensure there is no hierarchy created within the channel and that every partner receives the same Amoli treatment regardless of size. The terms and policies are one and the same for the small and big, and business decisions are based purely on the partner's capability and credit worthiness.
The partnership is further bolstered with financial support and guidance from Amoli's 'Easy Access' financial service solutions; provided to any reseller despite the business size who has the will to make it big.
The unmatched network, geographical presence and the transparent channel policies have made Amoli 'The preferred distributor' of resellers around the world.
Amoli's business alliance with major Brands of IT and Non-IT products is achieved through unswerving trust and mutually beneficial partnership.
The "distributor" status doesn't restrict Amoli by being a mere member of the channel, value addition is provided at every step of the process elevating Amoli from being a distributor to a marketing partner. Amoli does not distribute; it contributes. Amoli has dedicated business and sales teams for developing the business for every brand it distributes and these professionals act as an extension of business development team of the vendors.
Our uniqueness lies in the relationship with vendors and dealers at all levels across the country. We believe in winning business by the relationships we maintain and the quality of our people. Whether in product offerings, or value added propositions like demand generation and cost effective marketing activities, or the multi-location deliveries and billings, we believe in strengthening partnerships.
Today, we have end to end supply chain capabilities starting from import, warehousing, and stock movement across geographies to packing / repacking, order processing and delivery to the parts of the world where we operate, together with our own door delivery infrastructure. We also provide our customers with project based delivery services which require a highly coordinated activity of delivery of multiple products to multiple locations and in some cases installing them as well. The wide spectrum of products offered from multiple vendors helps us to provide the customers a single sourcing point.
Once a vendor of Amoli; always will. Thus 'success' is the term for our relationship with more than 20 brands that have unequivocally chosen Amoli as their Distributor of choice.